Over 100 bodies have been found in the Israeli kibbutz Be'eri, where Palestinian Hamas militants launched a deadly surprise attack. The self-sustaining farming community, which has 1,000 residents near Gaza, was one of the first targets.
The militants arrived in Be'eri on motorbikes around 7 a.m., just half an hour after breaching the typically high-tech, tightly guarded border wall between Gaza and Israel. A bloodbath followed, with footage showing militants pulling three bodies out of a car, stealing the vehicle, and driving north.
A video reveals armed militants taking five Israeli civilians captive, with the bodies of four later found on the ground nearby. Terrified residents reported that assailants went door to door, trying to break into their homes.
The Israeli Defense Force (IDF) has confirmed that Be'eri, a Jewish settlement in Israel, was severely damaged in a recent attack by Hamas militants. The attack occurred during a music festival called Nova, where Hamas militants shot and looted the belongings of revellers.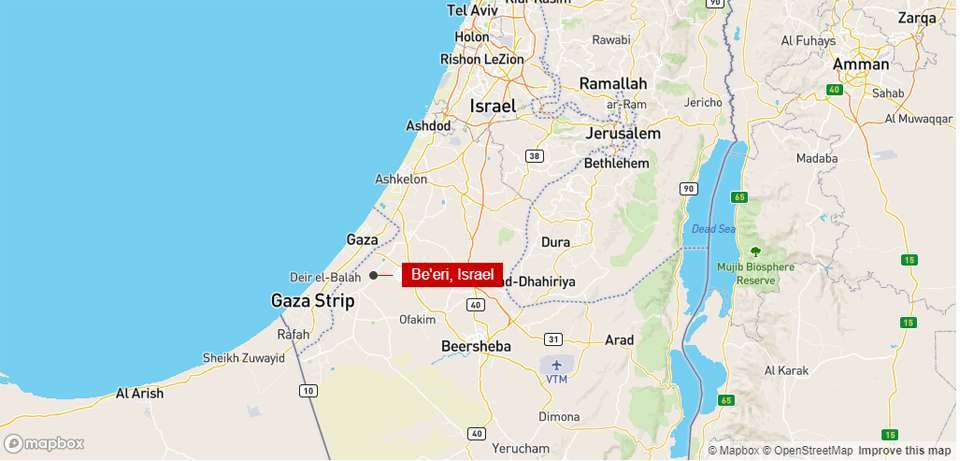 Over 260 bodies were later found at the festival site, with many attendees believed to have been captured and brought to Gaza. The IDF acknowledged that Be'eri was "very badly hit" and that they did not need all the rooms to house the evacuees. The attack on Be'eri coincided with Hamas militants descending upon a nearby music festival, causing a desperate search by family members and foreign governments.
Hamas has targeted several towns and settlements near the Gaza border in its first wave of assault, with Israeli authorities estimating up to 1,000 militants breaching the border. The death toll has risen as Israel continues its offensive, bombarding the densely populated territory with airstrikes.
At least 900 Israelis have died and thousands injured in Gaza, with the Health Ministry reporting 687 deaths, including 140 children, and the death toll expected to rise as Israel cuts off supplies. The attack has raised questions about the Israeli military and intelligence apparatus's failure, which the IDF has defended as focusing on the fight.