Journalists in Gaza are struggling to report on the war with Israel while facing similar challenges as the besieged Palestinian population. The aftermath of a recent explosion in a Gaza City hospital has highlighted the limitations of the world's ability to understand the situation. Journalists have been unable to enter Gaza since the Hamas attack on October 7, with the sole entry point being Israel's Erez crossing.
A few news organizations, including The Associated Press, BBC, Reuters, Agence France-Presse, and Al-Jazeera, have maintained a presence with bureaus in Gaza City. However, Israel's order to evacuate the northern part of Gaza has led journalists like AP and AFP to abandon their bureaus in Gaza City and head south. Julie Pace, executive editor and senior vice president of The Associated Press, said that working in Gaza is extremely difficult due to the pressure on staff to cover the story and their own safety. Despite limited power supplies, AP staff members have provided photos, video, and reporting daily since the war began.
Nine Agence France-Presse journalists in Gaza are struggling to balance their work and family responsibilities, with managers emphasizing the importance of safety. The Committee to Protect Journalists (CPJ) reported that at least 19 journalists have been killed since the start of the war, with 15 of them in Gaza. More journalists have been killed in Gaza in the past two weeks than in the territory since 2001. Journalist Ibrahim Dahman reported on his journey to find safety with his wife and two sons, expressing intense fear and concern for himself, his wife, and their children.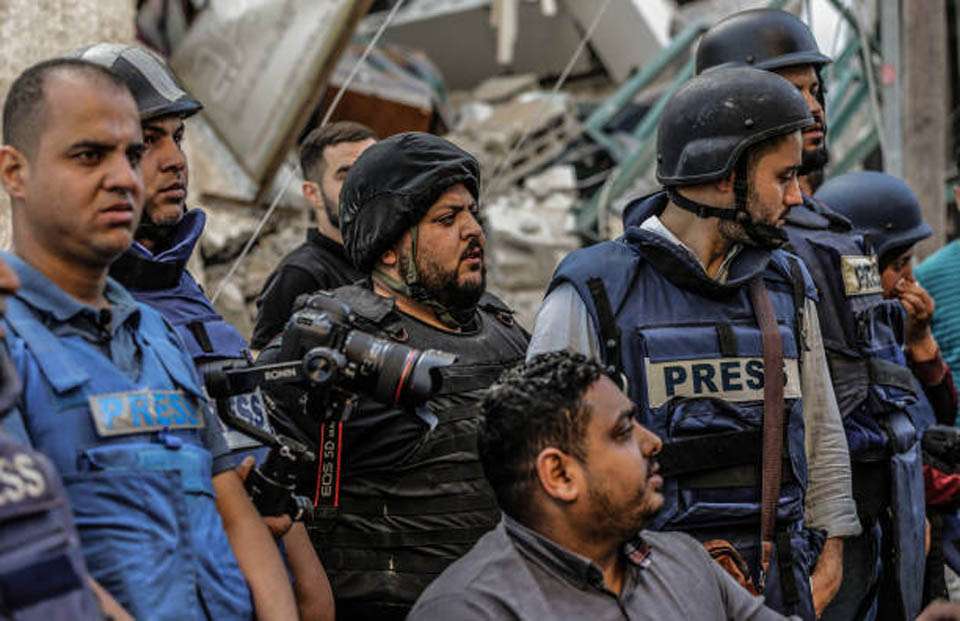 AP photojournalist Adel Hana's family fled to Deir al-Balah, where a series of blasts killed at least seven family members and buried women and children in rubble. Marwan al-Ghoul, working for CBS News, was heading south with his family in Gaza when he came across the aftermath of a bombing and filmed scenes of bodies buried in rubble and crying children walking through the site.
The need to bear witness comes after a week of intense focus on the attacks in Israel, where news media have been working freely. News organizations are aware of the need to highlight the suffering on both sides. Even with fewer news organizations operating in Gaza, there is a rich journalism tradition there, with advances in technology allowing many people to tote cameras to noteworthy scenes.
The New York Times has provided graphic details of the al-Ahli hospital explosion, including burnt-out cars and video footage, even without a full-time staff member in Gaza. However, this material does not replace professional journalists who can quickly reach the scene and interview people there. Eyewitness reporting is the best way to report what you see, and experienced journalists are more apt to know sources they can depend upon for truthful information.
In the aftermath of the al-Ahli hospital explosion, journalists were left to sift through competing finger-pointing over which side was to blame. The spread of disinformation online has made it less reliable, and verifying material that can be trusted is enormously time-consuming. News organizations are looking for ways to compensate for the barriers faced by journalists in Gaza, such as assigning a team of Arabic-speaking journalists to conduct interviews and monitor online activity.
For those left in Gaza, there is a concern about when supplies will run out without reinforcements, including power. The United Nations should keep the welfare of journalists on its agenda, including safe passage out of the country for those who need it.